Why the FROG-XT?
Designed for the most extreme scenarios and offering advanced passenger protection, the FROG-XT represents a revolution in crane transfer.
Spring and hydraulic damping system, and shock absorbing seats mitigate heavy vertical impacts.
Stainless steel frame and polyethylene buoyancy panels provide protection against side impacts.
Easy-use harnesses protect against falling, reinforced to minimize the risk of tangled straps.
Ergonomically designed seating and spatial layout for passenger comfort and security.
Rapid change to MedEvac mode allows for quick evacuation of a casualty.
Standardised components across the range for simple ordering.
Eye-level rigging connection for easy inspection and maintenance.
Weld free load path and easy to change out components, adding to the benefits of the simple inspection and maintenance schedule.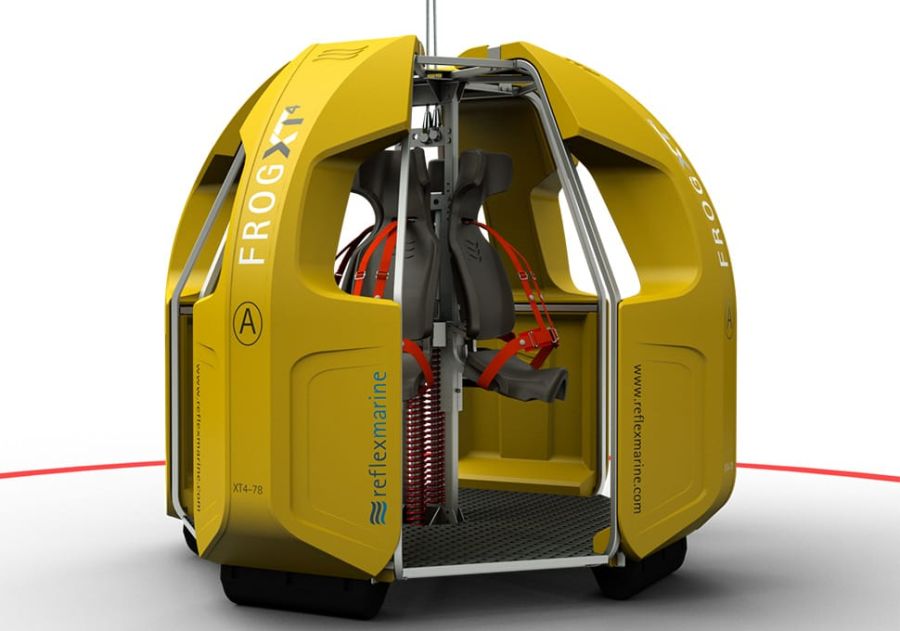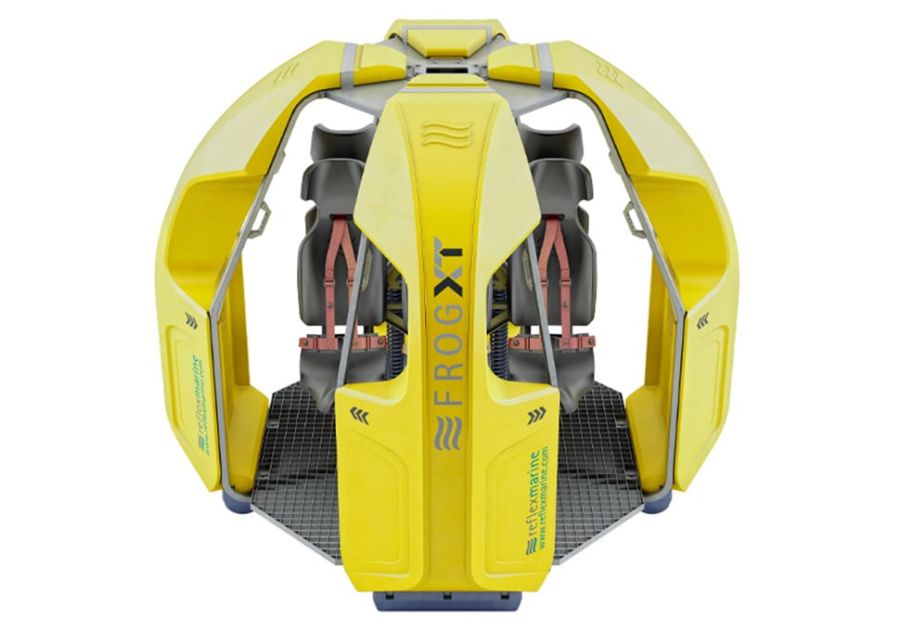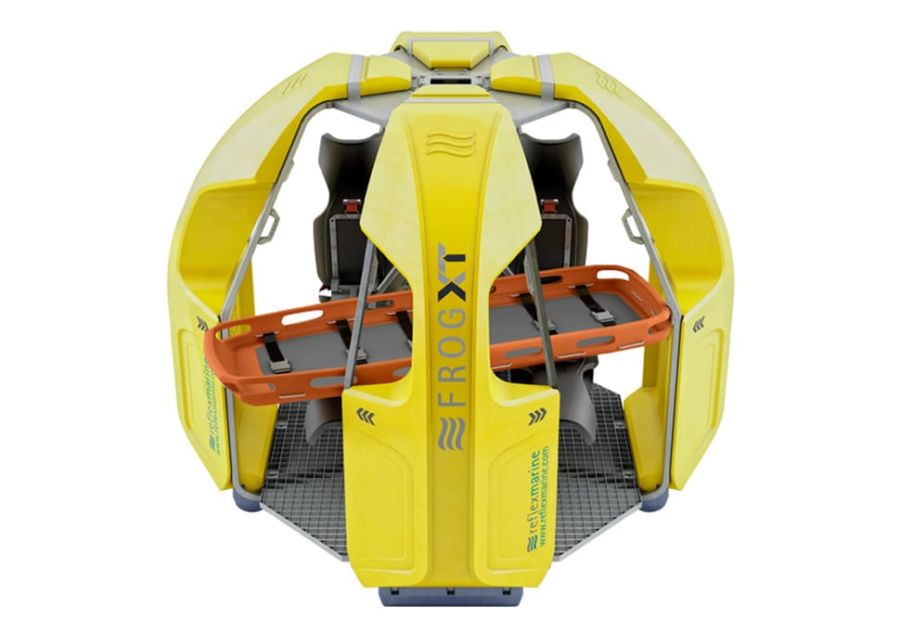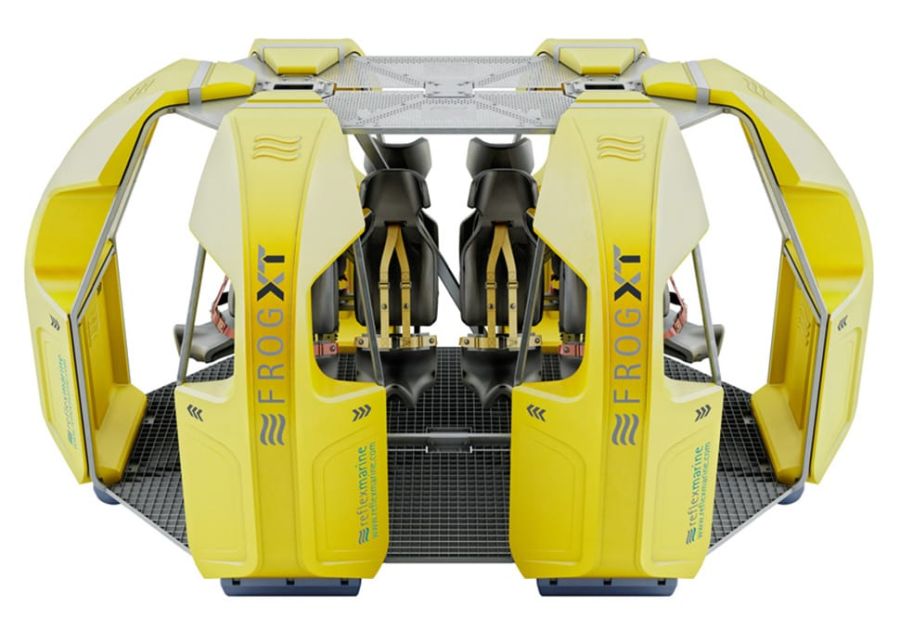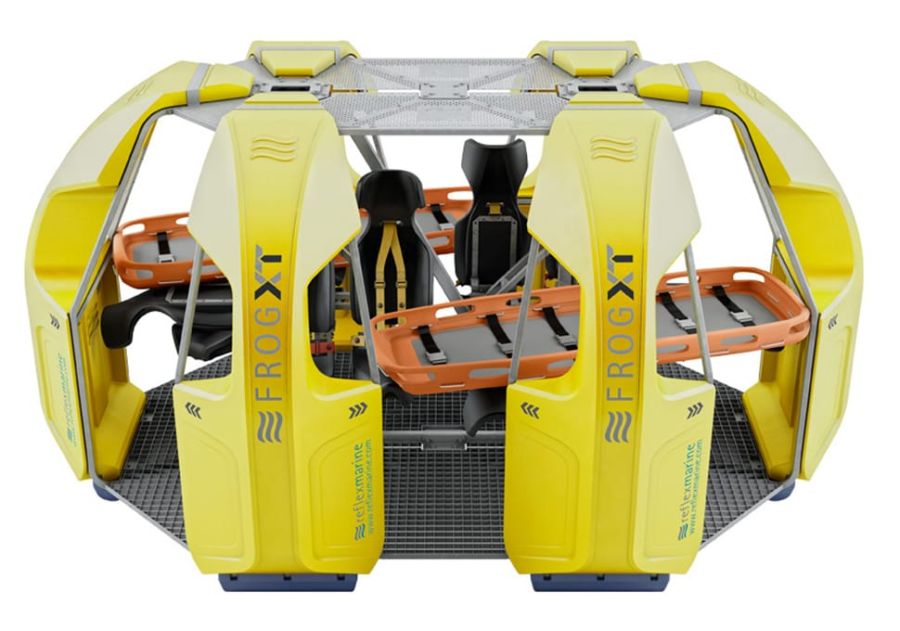 The FROG-XT story
As a successor to our globally popular FROG, the FROG-XT embraces the very latest industry developments, combined with two decades of experience.
From inception to delivery, development of the range took 36 months: 18 months spent in high-value concept and design and a further 18 in engineering, testing and verification.
Testing and verification
We've spent 10,000 hours on product development and subjected the FROG-XT range to the most rigorous testing and verification programme in Reflex Marine history. As a result, carriers are fully optimised and built to ISO 9001:2015 standards to protect passengers from the key risks associated with marine transfer.
Testing has taken place on both prototype (full scale model) and production type units, involving:
EC conformity assessment performed by TÜV SÜD;
Prototype testing of ergonomics;
Full-scale immersion and self-righting tests;
Full-scale impact testing, including vertical and horizontal testing, with data acquired using accelerometers and high-speed photography.
Your ownership experience
The FROG-XT range was developed with you in mind, so you can feel assured that our experienced support teams will be there whenever you need them.
Training
Full training is available through our Operational and Inspection & Maintenance courses, or you can request customised training to suit your needs. Our programme features 3D interactive modelling to demonstrate procedures, make content easy to understand, and improve accessibility for all languages.
Support materials
You'll receive a wide range of support materials in your product's User Pack. These are designed to walk personnel transfer staff through every aspect of ownership to make sure your operations run smoothly and safely.
Simple inspection and maintenance
Key product components are visible and accessible, and changeable parts are easy to reach, inspect and replace. To speed up your operation and make pre-transfer inspections simple, slings connect at eye level. You'll also benefit from our growing Partner Network, which means that local operational support is available to reduce the impact of maintenance delays.
Operational applications
Routine transfers
The FROG-XT is an excellent operational tool where crane operations are the dominant method of crew transfer. Enhanced design features protect passengers from the key risks associated with marine personnel transfer, providing a safe and comfortable journey.
Contingency transfers
The FROG-XT is also suited to operations where crane transfers are not the primary method of transport. The device provides an excellent back up when helicopters can't fly; in situations such as inter-field transfers, low volume crew changes, emergency down-manning or unpredictable circumstances like accidents or climatic events.
MedEvac
Many medical emergencies, including arm or hand injuries and incapacitation, prevent the use of a rope basket transfer. The ability to quickly accommodate a stretcher makes the FROG-XT the ideal method for the rapid transfer of sick or injured personnel. Converting the device to MedEvac mode takes just two minutes using only a spanner and Allen key, and its arrangement allows for a seated passenger or medic to accompany the injured person.