About Storm-work
Working at height over water has added risks compared to working on land, however similar equipment is often used. Reflex Marine applied its 25 years' experience of ergonomic design and marine safety to improving the safety of working at height. We identified the key risks in work basket design for the offshore industry (crushing & trapping, snagging, lateral impacts and immersion) and created an innovative work basket which prevents these.
By using the STORM-WORK our clients can benefit from:
Safe working zone area protecting your workers from injury.
Anti-snagging features reducing risk of incidents such as dangerous hang up on asset structures.
Soft touch and soft landing features protecting your workers and assets from hard landings or collisions.
Small footprint and lightweight design for easier manoeuvring and storage.
Simple maintenance procedures, easily replaceable components and a long product lifespan.
Immersion protection: in the worst case of immersion in water, the flotation and self-righting allows workers to escape to a safe position.
STORM-WORK is a work basket that provides you with an ergonomic work space for safely carrying out a wide range of tasks such as inspections, painting and repair work.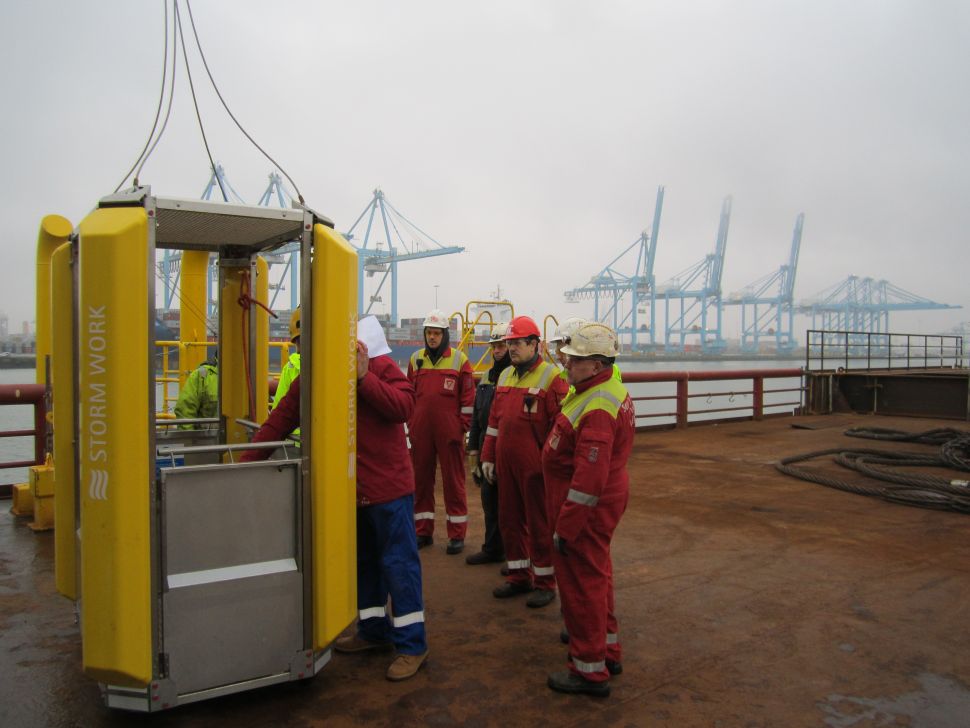 The Storm-Work story
For any new product development we undertake, improving the safety of the offshore operations is our primary objective. We start by identifying the major risks in the current operations and then look to develop a design that mitigates them. Therefore, the driving force behind the design of the STORM-WORK was to address the traditional work basket design shortcomings and protect passengers from these identified risks. Out of this process, the key risks in work basket design for the offshore industry were identified and measures to mitigate them incorporated into the design of our innovative new product.
Our development process also involved operator engagement – we worked closely with our industry partner Seaway 7 to gain current operational insights into the practical issues highlighted by the crews' working with work baskets. Further to that, STORM-WORK has undergone a rigorous testing and verification programme, just like all of Reflex Marine's products.
The STORM-WORK design achieved a victory for Reflex Marine in the Safety Category at the 2019 LEEA Awards. The Safety Award is intended to recognise 'organisations that demonstrate products and/or services that provide innovative protection to people from the risk of injury'.
Your ownership experience
The STORM-WORK was developed with users in mind.
Inspection & maintenance
STORM-WORK has been subjected to the same rigorous testing program that we use for all of our transfer carriers to verify our design, calculations and operational guidance.
Each Reflex Marine product comes with a comprehensive User Manual which provides you with detailed information on operational parameters, as well as, recommended inspection & maintenance procedures. You may download the STORM-WORK User Manual from our downloads section.
Accessories and replacement parts
Holding a stock of replacement parts means your device is ready when you are. As a result, you'll benefit from reduced lead times, less downtime and lower packing and freighting costs.
Please contact our team to discuss your options of stock management or to order replacement parts.
Buy, rent or lease
Manufactured in the UK, all products are stocked at our base in Malmesbury. Many are also available regionally, in a location convenient for you, through our partner network.
If you need a work basket for a short period of time, or would simply like to trial one before purchasing, we offer rental options. This is an ideal solution for short-term project work or for extra capacity is required during a certain phase of your project.
Our rental and leasing terms are very flexible, and we'll happily work with you to create a tailored agreement that meets your needs.
Contact our experienced sales team or one of our Approved Partners to find out more or request a quotation.
Download the User Manual for a complete overview of STORM-WORK and its key operational and technical parameters.