Reflex Marine offers flexible training experiences to help you gain knowledge and expertise in the safe use and care of your personnel transfer carriers and other Reflex Marine equipment.
Our customised training courses are highly adaptable and user-focused. Courses are delivered using methods that are convenient to you. The following training formats are available:
Reflex Marine Training Centres – Our training facilities in Bristol, Barcelona, Rio de Janeiro and Singapore are set up to offer hands on practical training. We offer training packages including accommodation, catering, local transport logistics and support.
Live online training – Via webinar platform with interactive question and answer session as well as a follow-up questionnaire. (Online training is available for all modules except for Level 2 Inspection & Maintenance which provides practical experience with our products.)
Client facilities onshore or offshore – Training can be arranged as required at suitable client facilities; offshore training is offered subject to local certification requirements for our trainers.
Training modules
Reflex Marine training courses cover the following modules and can be customised according to your requirements:
Risk Awareness & Operational Strategy
Operational Best Practice
Passenger Induction
Inspection & Maintenance
Our training courses will provide you with the necessary information to help you ensure safety in offshore crew and cargo transfer at all levels of the operations.
Our Inspection & Maintenance courses formally qualify delegates to perform safety critical servicing tasks (supported by Reflex Marine's Certificates of Competence).
Reflex Marine offers courses both to groups and individuals. For more information, please fill out the form at the bottom of this page.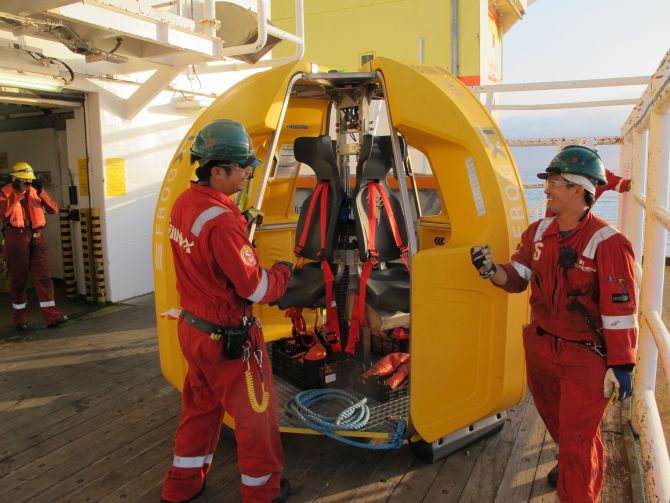 Training modules explained
Risk Awareness & Operational Strategy
(Executive Level - 2 hours)
This training targets management and planners. It covers comparisons of different crew supply strategies, risk awareness, operational assets and key planning considerations.
Operational Best Practice
(Manager/Supervisor Level - 4 hours)
Developing risk awareness and a deeper understanding of industry best practice: this training focuses on the key operational aspects of managing risks in marine transfers and is directed to personnel involved in supervising or influencing the safety and efficiency of offshore transfer operations. The content covers risk awareness, lift planning and execution as well as pre-use inspections.
Operational best practice module includes theory (crane transfer risks, transfer planning, transfer operations) and practice (pre-use checks, passenger loading procedures, MedEvac transfers).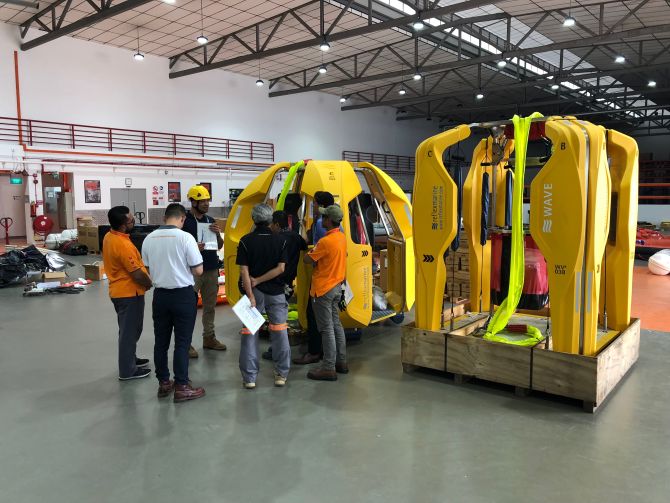 Passenger Induction: using the products with confidence
(All staff levels – 2 hours)
Within the induction module we will familiarise you with the products, explain the basics of using the equipment safely, including passenger and crane operator briefings, pre-use visual inspection procedure and MedEvac mode transfers (stretcher installation and safe transfer of casualties).
Inspection & Maintenance
(Technician level)
The Inspection & Maintenance module provides the context and in-depth knowledge required to ensure your safety-critical assets can be used with full confidence. This is a practical, hands-on type of experience most suitable for for technicians, inspectors and supervisors.
Level 1 (Routine - 4 hours) – This training focuses on routine I&M procedures including Visual Inspections (VI) and the servicing of common wear and tear components of our different products. Level 1 training generally takes 4 hours per product.
Level 2 (Full Service - 8 hours) – Focused on deep servicing activities and is aimed principally at service partners with the resources and facilities to undertake major assessments, repairs and rebuilds.
Upon successful completion of this module, delegates will receive a Certificate of Competence.
Delegate Prequalification – For all I&M training delegates are screened to ensure they have the appropriate competency to perform the service activities in question. Clients are therefore generally requested to provide CVs or other evidence of work experience and competance.
Why is training important
People are every company's greatest asset.
Our training courses provide you with the necessary information to help you ensure safety in offshore crew and cargo transfer at all levels of the operations. They allow you to gain confidence by developing a wider appreciation of risks and the skills needed to perform safety critical service tasks. Having this knowledge not only provide job-related knowledge but it can be a catalyse for positive changes in the attitude of workers, supervisors and organisation.